Florida Relay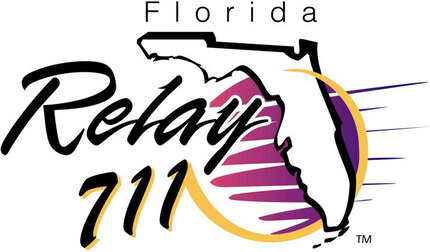 Dial 7-1-1 to get assistance communicating with standard (voice) telephone users.
Florida Relay is a service provided to residents in the State of Florida who are Deaf, Hard of Hearing, Deaf/Blind, or Speech Disabled that connects them to standard (voice) telephone users. Through the use of highly trained Operators, calls can be made 24/7, 365 days a year allowing our Florida residents who are in need of Relay services to connect and communicate with anyone at any time.
All calls remain confidential, and no records of conversations are ever maintained.
Relay Services
Benefits of Using Florida Relay
Florida Relay Service uses state-of-the-art technology to bring relay services to users. The following features and performance standards are available at all times.
Store and refer back to information such as frequently dialed numbers, preferred call type, and long distance carrier
Utilize a wide array of technologies, such as teletypewriters (TTYs), Voice Carry-Over (VCO) and Hearing Carry-Over (HCO)
Retrieve voicemail and answering machine messages
Redial last number called
Work with sensitive and well-trained Relay Operators who handle each call with complete confidentiality
The Relay Service routinely monitors performance to ensure continuous high quality services.
Florida Relay offers services in Spanish, Spanish to English translation, and French.
Getting Started: Dial 7-1-1
7-1-1 is a simple, free, easy-to-remember number to access Florida Relay services. The Florida Relay Service, provided through a contract with T-Mobile, is used to assist communications between people who use text telephones (TTYs) and people who use voice telephones. Specially trained operators facilitate communications between the two callers. Every call is handled in strict confidence.
A person who is deaf, hard of hearing, deaf-blind, or speech-disabled uses a TTY to type his/her conversation to the relay operator who then reads the typed conversation to a hearing person. The Relay Operator relays the hearing person's spoken words by typing them back to the TTY user.
7-1-1 is easier to dial and remember than the typical 800 numbers for relay access. It creates a more user-friendly environment for less experienced users, such as businesses and friends or family members of TTY users. 7-1-1 is NOT an emergency code and should not be confused with 9-1-1. HOWEVER, if you use a TTY and cannot obtain emergency services through 9-1-1, you may call 7-1-1 and tell the Relay Operator you have an emergency. The operator will then voice your emergency to the appropriate authorities.
The simplest way to access the variety of Florida Relay services available is to Dial 7-1-1.
Just follow these simple steps:
Dial 7-1-1 (or the Florida Relay toll-free number appropriate for you specific call listed below)
A specially trained Florida Relay Operator will answer and identify themselves by their Operator number.
Give the Operator the phone number of the person you are calling.
The operator will connect you with the person you are calling and will assist you with communication.
NOTE: If the phone from which you are calling does not accept 7-1-1, we have a list of dedicated toll free numbers for each call-type that you can utilize for the same great service!
| Service | Phone Number | Service Description |
| --- | --- | --- |
| TTY | 800-955-8771 | If you are using TTY equipment. |
| Voice | 800-955-8770 | If you are a standard (voice) user, and are trying to connect with a Relay user. |
| ASCII | 800-955-1339 | If you are utilizing a computer. |
| Voice Carry Over (VCO) | 877-955-8260 | If you prefer to speak directly to the hearing person. When the hearing person speaks to you, the Relay Operator serves as your "ears" and types everything said to your TTY or VCO phone. |
| Speech to Speech (STS) | 877-955-5334 | If you have a speech disability and would prefer to have our specially trained Relay Operators serve as your voice and repeat your responses to the called party. |
| Video Assisted STS | 877-955-5334 | Video-Assisted STS supports a one-way video call between the CA and STS user. Teh video connection assists the CA in understanding the STS user's speech. Callers can enter contact information in the STS Profile to reduce set-up time. |
| Spanish to Spanish | 877-955-8773 | If you prefer to conduct your conversations in Spanish. |
| Spanish to English Translation | 844-463-9710 | If your primary language is Spanish, however your caller is an English speaker. Our Relay Operators are able to translate your conversation into English. |
| 900 Pay Per Call | 900-230-6868 | With Pay per calls the Relay user is responsible for direct billing. Rates vary depending on the service called. |
Florida Relay Customer Profile
With Florida Relay you are able to fill out your own customer profile. This allows us to store your call preferences, and expedites call processing. Some items you can add to your profile include:
Frequently dialed numbers
Emergency numbers
Preferred carrier of choice
Customer notes
Other personal preferences
The relay user will have the flexibility of updating their user preferences as needed. User information is confidential and secure.
If you are a TRS (TTY, Caption Phone) user, select this form:
If you are a STS (Speech to Speech) user, select this form:
Once you have downloaded and completed the selected form, please send it to the following address for processing:
T-Mobile Accessibility Care
KSOPHD01-Z8200
6220 Sprint Parkway
Overland Park, KS 66251-8200
If you need help completing either form, please contact Florida Customer Service 866-462-6509 (Voice/TTY), 800-855-2886 (Spanish), 866-931-9027 (VCO) or 877-877-3291 (Fax). All the information you provide will be kept confidential. For additional customer service contact information please see below.
Spanish Relay
Florida Relay makes it easy for Spanish and English-speaking Florida Relay users to call one another by phone. All call types processed through Florida Relay are also available in Spanish. This includes TTY, VCO, HCO, and STS.
In addition to Spanish-to-Spanish relay, Florida Relay also offers English-to-Spanish and Spanish-to-English translation 24/7 365 days a year. In order for a Relay call to be translated, callers must request a Spanish CA when dialing 711 or dial the Florida Relay Spanish number directly at (877) 955-8773.
Emergency Assistance
In case of an emergency, Relay users should call 9-1-1 directly or the emergency services center in their community.
If a relay user attempts to dials 9-1-1 through the Florida Relay Service the Relay Operator will transfer the call to the nearest Public Safety Answering Point (PSAP). However, please remember: calls placed directly to emergency service 9-1-1 will save valuable time in urgent situations.
Customer Service
Florida Relay customer service is available 24 hours a day 365 days a year. If you have problems placing your Relay call please use the contact information below:
English Florida Relay Customer Service:

1-800-676-3777 (TTY/ASCII)
1-800-676-3777 (Voice)
877-877-3291 (Fax)
access@t-mobile.com (Email)

Spanish Florida Customer Service:

1-800-855-2886 (TTY/Voice)

Speech to Speech Customer Service:

877-787-1989

Voice Carry Over Customer Service:

866-931-9027