LeadingAge & FTRI Partnership
LeadingAge Florida and FTRI have partnered to create awareness about FTRI's amplified telephones to qualified Florida residents at no cost.
FTRI offers a variety of amplified phones—FREE to qualified applicants.
Eligibility is open to Florida residents with hearing or speech loss. To receive specialized telephone equipment, you must provide proof of eligibility.
FTRI specialized telephone equipment is available at no cost. You must also provide proof of residency with one of the following:
Florida Driver's License
Florida Voter Registration Card
Florida Identification Card
Florida Vehicle Registration
Florida Medicaid Card
Letter from Social Security with your name and Florida address
LeadingAge Florida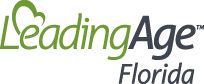 LeadingAge Florida was established in 1963 as a Florida not-for-profit corporation. We are the only statewide association representing the full continuum of care for seniors. We serve nearly 400 mission-driven communities trusted with providing quality care and services. We promote practices that support, enable and empower people to live fully as they age.
Our Brand Promise

Our Brand Promise is simple: Advocate. Educate. Serve.

Our Mission

"Expanding Possibilities for Aging"