FGS & FTRI Partnership
Florida Geriatrics Society and FTRI have partnered to create awareness about FTRI's amplified telephones to qualified Florida residents at no cost.
FTRI offers a variety of amplified phones—FREE to qualified applicants.
Eligibility is open to Florida residents with hearing or speech loss. To receive specialized telephone equipment, you must provide proof of eligibility.
FTRI specialized telephone equipment is available at no cost. You must also provide proof of residency with one of the following:
Florida Driver's License
Florida Voter Registration Card
Florida Identification Card
Florida Vehicle Registration
Florida Medicaid Card
Letter from Social Security with your name and Florida address
Resources and Links

A seminar covering the detrimental effects of untreated hearing loss. Topics include an overview on why hearing loss is often left untreated and how ignoring hearing loss can increase the risk of auditory deprivation and cortical reorganization, as well as depression, isolation, and dementia.
James Forstall announces FGS and FTRI's partnership and shares some information about FTRI's mission and services.
Florida Geriatrics Society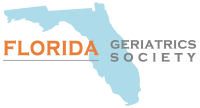 The Florida Geriatrics Society was founded in 1989 and is the Florida Affiliate of the American Geriatrics Society, the leading geriatric professional organization in the world.
The mission is to promote and maintain high standards of health care for the elderly, to assist with professional education, to foster professional and public awareness of issues that affect patients, to advocate for quality geriatric healthcare and to encourage and promote research.
FGS membership consists of healthcare professionals who are skilled and passionate about caring for the elderly. Historically, about 85% of FGS members are physicians, with the remainder mostly nurse practitioners, pharmacists, dieticians and a variety of other professions.