Relay Conference Captioning (RCC)
Relay Conference Captioning (RCC) is a free service for anyone who is deaf or hard of hearing to engage in group conversations in a videoconference, multi-party conference call or webinar. Using the same high-quality captioners that produce closed captioning for television, RCC users receive live, real-time text streamed to a computer connected to the Internet anywhere.
Classrooms or Face-to-Face Meetings
Read captions of what is said during classes or face-to-face meetings on your laptop, tablet, or mobile device with a high-speed Internet connection.
Schedule your request to participate in meetings with RCC!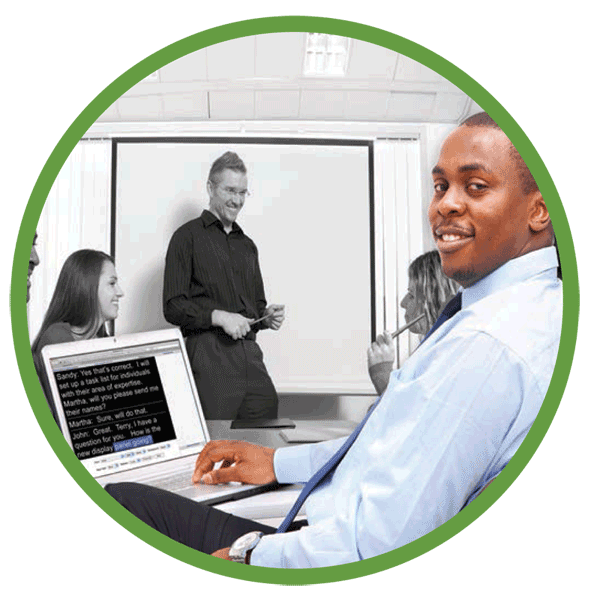 How to schedule the RCC service
Make an appointment at least 48 hours (two working days) in advance to guarantee the service.
Arrange for a toll-free conference/audio bridge for a captioner to listen and caption the scheduled event.
Go to Florida Relay Conference Captioning to submit a request.
Fill out required information on the ONLINE FORM including:

Contact and event information.
Teleconference call number and access code.
Date and time of event.
Provide specific information (i.e., proper names, call agenda, speaker or Power Point notes, etc.) in order to receive accurate captioning.

Transcript option must be selected at time of scheduling RCC to retain a copy on the server or destroy immediately after the call.
Once the call is booked and your captioner is assigned, you will receive a confirmation e-mail with the Event ID and the RCC link for you to access your captioned call.  You are welcome to share the RCC link with the participants to view captions.
We understand that cancellations or event changes may occur.  Cancellations or event changes must be received within 24 hours of an event. Please use your confirmation email or e-mail RCC@sprint.com to let us know of any changes or cancellation.
How to Use
On the day of the conference call or webinar, use the RCC link to access captioning site and sign in a few minutes prior to the start of the call.
Your captioner will caption the dialogue on the call.
There are two options to participate. 

Type in your message and the captioner will relay your message to the participants
You can voice for yourself by joining the same conference/audio bridge using a standard or mobile telephone.

If a transcript option was selected, at the end of the event, you can request for a copy of the transcript via email, print or copy.
Equipment
To use RCC, you need an internet-connected mobile device with a web browser.  You will also need the following minimum system requirements:
A high-speed Internet connection
Microsoft Windows 10 or OS X
Internet Explorer, Chrome, Firefox, or Safari with cookies and JavaScript enabled
No need to download software.
Scheduling and Technical Support
For scheduling support, you may reply using your confirmation email that contains your event ID information or
Contact: 833-250-2784 or email: captioning@t-mobile.com
Technical support is limited to the functions of Relay Conference Captioning and is not designed to assist participants with issues related to their computer, Internet connection, conference calling provider or others.
Hours of Operation
Monday-Friday, 8:00 am – 6:00 pm